Are you searching for the perfect combination of comfort, style, and warmth for your feet? If yes, it is high time to choose shearling moccasin slippers. These cosy and luxurious slippers offer a timeless design with the added comfort and insulation of genuine shearling. This detailed blog post will provide everything you need to know about these moccasin slippers. From their construction and materials to the benefits they offer, let's explore why this footwear option is a must-have for ultimate cosy comfort:
What are Shearling Moccasin Slippers?
Shearling moccasin slippers are a type of footwear that combines the classic moccasin design with the plush and insulating qualities of shearling. They are typically made from high-quality suede or leather on the outside and lined with soft shearling on the inside. The slippers often feature moccasin-style stitching around the toe and a durable sole for indoor and light outdoor use.
The Benefits of Shearling Moccasin Slippers
Exceptional Comfort: These moccasins provide exceptional comfort due to the softness and cushioning of the shearling lining. The plush wool moulds to the shape of your feet, creating a custom fit that feels like walking on a cloud.
Natural Insulation: Shearling is known for its natural insulating properties. The dense wool fibres trap air and regulate temperature, keeping your feet warm in colder temperatures and cool in warmer conditions.
Moisture-Wicking and Breathability: This type of footwear has in-built moisture-wicking properties that keep your feet dry and comfortable.The natural breathability of sheepskin allows air to circulate, preventing excessive sweating and reducing the risk of odour.
Durability: These footwear are typically crafted from high-quality materials such as suede or leather, ensuring durability and long-lasting wear. The meticulous construction and stitching contribute to the overall durability of these moccasins.
How to Care for Moccasin Style Slippers?
Regular Cleaning: Brush any loose dirt or debris from the suede or leather exterior using a soft brush. For light stains, use a damp cloth with mild soap to gently clean the surface. Also, avoid swamping the slippers into the water or using harsh chemicals.
Drying: If the moccasin get wet, stuff them with newspaper or paper towels to help absorb moisture. Allow them to air dry naturally away from direct heat sources, which can damage the shearling.
Maintenance: To maintain the softness and plushness of the shearling, lightly brush it with a soft-bristle brush. It helps restore the natural appearance and loft of the wool.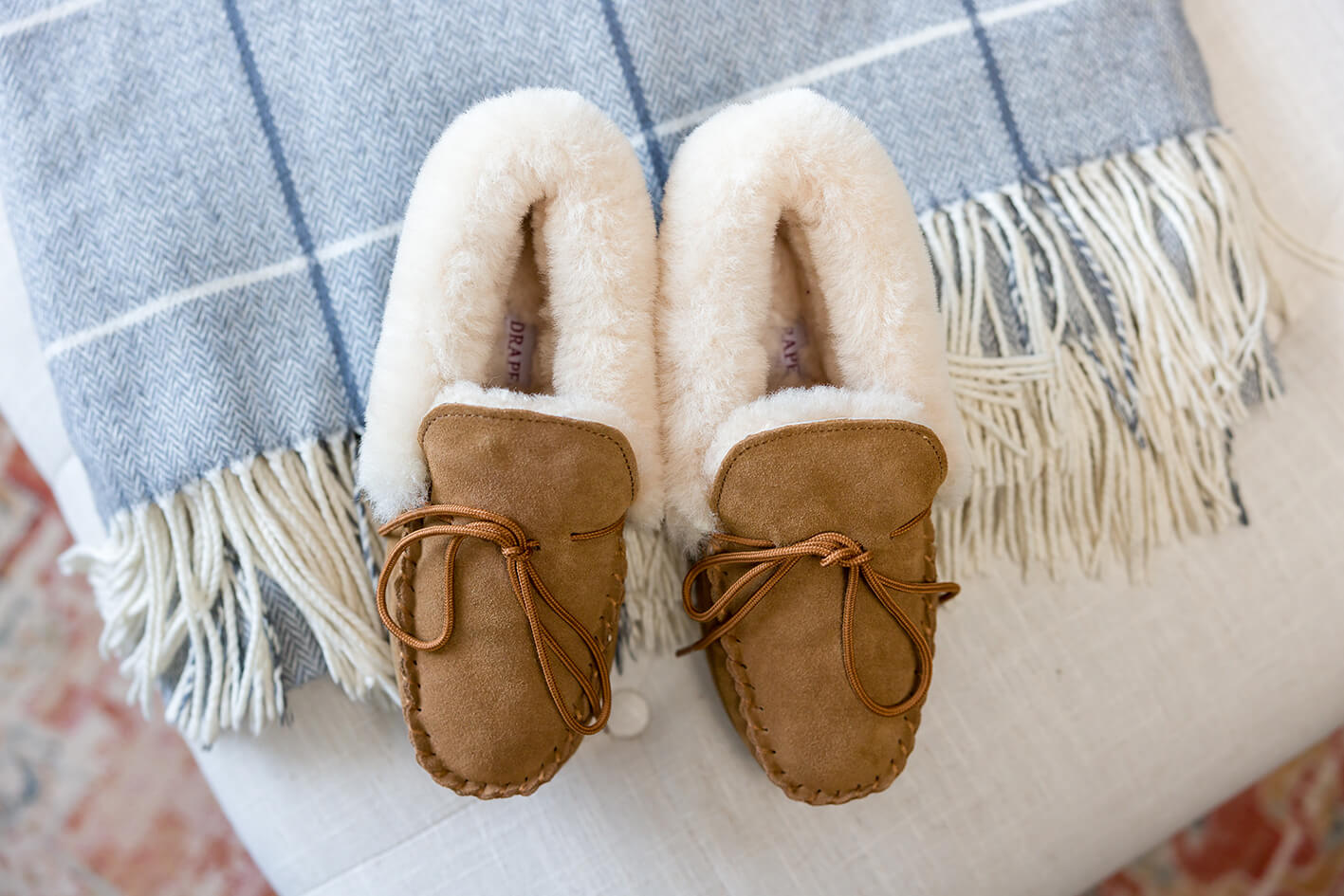 Styling Tips for Shearling Footwear
Cozy Loungewear: Pair your moccasins  with your favourite loungewear for a cosy and relaxed look. Opt for comfortable joggers, leggings, pyjama bottoms and a soft sweater or hoodie. These slippers add a touch of luxury to your loungewear ensemble.
Casual Chic: Incorporate moccasins footwear into your casual outfits for a laid-back yet stylish look. Pair them with jeans or chinos, a cosy sweater or flannel shirt, and a lightweight jacket or cardigan. The slippers will add a cosy and fashionable element to your casual attire.
 Indoor/Outdoor Versatility: Shearling non-slip soles moccasins are designed for indoor comfort but can also be worn outdoors for quick errands or light activities. Pair them with your favourite jeans, a casual shirt, and a lightweight jacket for a comfortable and stylish outdoor look.
Final Words
Overall, shearling moccasin slippers are the proper blend of comfort, style, and warmth for your feet. With their plush shearling lining, natural insulation, and durability, these moccasins are a must-have for ultimate cosiness. Remember to care for your moccasins properly to ensure their longevity and continue enjoying their luxurious comfort. Whether lounging at home or running errands, these footwear are perfect for all-day comfort and style.
So, what are you waiting for? Indulge in the cosy comfort of moccasin styled slippers and treat your feet to a bit of luxury.